Rotorua is home to a vast array of cultural activities. As a real center of Maori culture there are plenty of Maori cultural activities on offer, and we do a great job of showcasing Rural NZ culture as well.
Learn about some of our favourites here, and check out our Rotorua Attractions page for more.
Tamaki Maori Village
From their site:
In 1989, two young Maori brothers Mike and Doug Tamaki began building a dream… It started with the sale of a Harley Davidson motorcycle for the purchase of a 16-seater mini bus. The vision saw the brothers and their families create a whole new encounter by taking the Maori culture outside of the city limits where they created a pre-European Maori village, 15 minutes south of Rotorua.

Today Tamaki Maori Village thrives within a natural forest environment, offering to both local and international visitors an insight into the Maori culture – like never before!

Journey back to a time of proud warriors and ancient traditions. Our Evening Experience offers ceremonial rituals, powerful cultural performances & hangi feasting.

Sleeping in a whare moe (sleeping house) was a tradition reserved for when one tribe visited another tribe. We invite you to experience an Overnight Marae Stay in the heart of Tamaki Maori Village, where our people share with you intimately customs, protocols and stories of yesteryear!
This place is well worth the visit and is a great taste of Maori culture.
More Info: http://www.tamakimaorivillage.co.nz/
---
Whakarewarewa Maori Village
This one made it to the list of our Top 10 Things to do in Rotorua.
For over 200 years the Tuhourangi/Ngati Wahiao tribe have welcomed visitors into their backyard. Allowing them to experience the culture of one of Rotorua's most enjoyable attractions.
Relive the history of their Maori village with stories from the tour guides who have lived there for more than five generations. You will be treated to a culture like no other and a truly unmissable attraction.
Where: 17 Tryon Street, Whakarewarewa Village, Rotorua, New Zealand
More Info: http://www.whakarewarewa.com/
---
Te Puia Evening Experience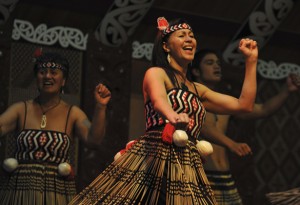 This is a big night. It includes a traditional welcome, lifting of the hangi, an authentic Maori feast and an exclusive cultural performance. Te Puia have a range of activities and cultural experiences on offer, and you can see them all at their website.
More Info: http://www.tepuia.com/new-zealand/TePoEveningExperience/
---
The Agrodome
The Unique NZ Farm experience!
In the heart of 350 acres of lush farmland, yet only 10 minutes from Rotorua city centre, you'll find New Zealand's Agrodome. Visitors from all over the globe have come to the Agrodome to see the world-famous Farm Show – starring a cast of talented animals… and you! Join the Farm Tour to explore a real working farm, hand-feed loads of friendly animals, and sample delicious kiwifruit juice and honey from our land. The Agrodome is one of New Zealand's must-see attractions, open in any weather, 365 days a year!
More Info: http://www.agrodome.co.nz/
---
Have you done any of these activities? Let us know what you thought on our Facebook page.