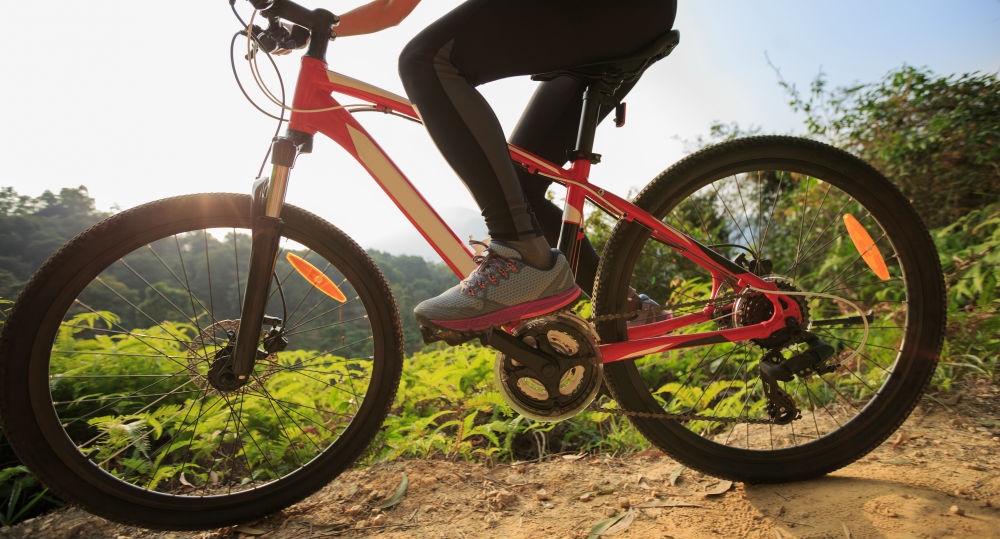 Rotorua is a first class destination for anyone with a passion for mountain biking. Even if you are a beginner, there is no better place to take your first ride than on one of Rotorua's tracks. You will take in not only the amazing scenery and beauty of New Zealand but have a whole lot of fun along the way.
There is a track to suit everyone, from adrenaline junkies to beginners which makes mountain biking in Rotorua a fantastic place to visit. And with no shortage of activities, there is bound to be something to suit everyone. If you're into cycling, this is the place to be.
Asure Palm Court Rotorua has bike cleaning facilities available for our guests to use after a hard day out on the hills. Once you are done cleaning, you can enjoy relaxing in our in-room geothermal spa – perfectly suited to help relieve those tired muscles.
To help you plan the best mountain biking adventure in Rotorua, we have created the ultimate guide with lots of information about our local tracks, equipment stores and more.
And we will add to this list over time, so if you think of anything we have missed … let us know!

Rotorua Mountain Biking Trails & Businesses
With Rotorua been the home to Mountain Biking in New Zealand, there are over 80 tracks to ride. Ranging from beginner to Expert, you will find something to suit your expertise.
Here are some great places to find some of the best mountain bike trails around:
1. Skyline Rotorua Mountain Biking
Home of the Dirt Rocks Track – Skyline Rotorua is the home to New Zealand's first year-round Gondola assisted bike lift.
Skyline Mountain Bike park gives riders easy access to 12km of trails with varying terrain for all abilities. With 12 trails in all Skyline Mountain Bike ranges from Intermediate, advanced and expert. View the trail map here!
Skyline Mountain Bike is open daily from 10 am to 5 pm, bike lift prices start from $32.
Bike rentals are also available and operate from the bottom of the skyline Rotorua terminal. And if you need help with your bike the Rotorua Bike team are onsite from 9 am daily to help you with your biking needs.
Rental prices for bikes start from $60 per day.
Top Elevation: 532m
Vertical Rise: 200m
Longest Run: 1.8km
Trails: 12 runs
You can find Skyline Rotorua at 178 Fairy Springs Road, Rotorua or check out their website here.
2. The Redwoods – Whakarewarewa Forest
Famous for its magnificent stands of towering Californian Coastal Redwoods, Whakarewarewa Forest is just five minutes drive from the city centre. One of the oldest mountain bike networks in the country, with master crafted trails, unbeatable riding surfaces, well-draining volcanic soils, varying topography, and fantastic scenery. It is no wonder Rotorua is renowned among mountain bikers as a premier riding destination.
With around 130km of continually evolving trails, there is something to cater for all levels of rider, from beginners and family groups through to experts looking for extreme action.
Mountain Bike Rotorua, the on-site bike hire at the Rotorua Mountain Bike car park also operates the container café which sells awesome coffee, smoothies, sammies, cakes, ice-creams, and other goodies to re-fuel after your ride.
Here you can experience some of the finest walking and mountain bike trails in the world. Not to mention taking in superb panoramic views of Rotorua City, Lake, and surrounding district. If you love the outdoors this area is for you! Entry to the forest, tracks and the Redwoods i-Site & Visitor Centre is FREE.
You can find them at Tawa Rd, Whakarewarewa, Rotorua. Check out more info here: http://redwoods.co.nz/bike/
Open from 8.30am daily.
3. Mountain Bike Rotorua
Mountain Bike Rotorua Adventure Hub is your gateway to Whakarewarewa, Redwood Forests and the Skyline Gravity Park. The Mountain Bike Rotorua adventure hub has everything you need to know about trails, skills, workshops, and events happening in the region. It's home of the internationally renowned mountain bike festival, Crankworx Rotorua. They have bases at each of these bike parks as well as a convenient central city location, the friendly team at Mountain Bike Rotorua have everything you need to get out and ride.
You can find Mountain Bike Rotorua at the Redwood Forest – Tawa Rd, Whakarewarewa, Rotorua, and in central Rotorua (1213 Fenton St)
Opens 8.30am – 5.00pm daily.
4. Hemo Gorge Trail – Te Ara Ahi
The Hemo Gorge Trail is two-way, Grade 2, shared trail that takes cyclists and walkers off SH5 for access to the Waipa Mountain Biking car park. It is part of the Te Ara Ahi Cycleway, that continues to Rainbow Mountain. The trail is 1.5km from the Te Puia carpark to the Waipa car park.
Heading out to the forest from town, the trail starts at the southern end of the Te Puia carpark and drops down a wide, well-bermed section to the valley floor for a quick run to the Puarenga stream. Rotorua's water used to come from the Waipa Spring and the pipes and buildings have been uncovered as part of the work. At the old pumping station, take the stairs to a great spot with a view back down the gorge to the city. There are seats everywhere to rest and take in the environment. Continue south and you will reach a fork. Turn right and it's a steep-ish climb, and turning left takes you along the river to well-engineered stairs for a short hike-a-bike. Get ready for a fast downhill experience and then after a steady climb, you will arrive at the Bridge to Waipa – an impressive structure! On the left is single-track to the Waipa Mountain Biking carpark and you are at the trailhead. Head right on the pathway to Waipa Mill Road and right again to SH5, and you will find the concrete strip of Te Ara Ahi on the left of the highway. Here's more information on this trail.
Open Daily from Sunrise to Sunset, all year round.
5. Helibike Rotorua
Heli-Biking, Heli-Running, and Heli-Hiking in the fantastic Whirinaki forest, The Timber Trail, or the Waikato River Trail
Welcome to an exciting bucket list adventure! Come with us on an exhilarating Helicopter flight to the Moerangi trail, The Timber Trail or the Waikato River Trail. You can Mountain bike, trail run or hike these magnificent trails.
You can stay overnight – or do it in a day. So make a booking, pack your gear and get excited.
Price Range $495.00 – $1695.00
HeliBike Rotorua is based at 159 Golf Rd, Galatea. For more information about Helibike Rotorua click here.
More Trails…
The Dipper
This is a leisurely trail; it is a mostly flat, smooth ride with some gentle climbs. It is an iconic Whakarewewa trail and is ideal for inexperienced riders or a family day out. Make a day of it and take in the amazing views. Here is a map of the trail.
Rainbow Mountain Loop
There are a series of trails for different levels of riders. The tracks all meet up and you can even walk some of them to take in the spectacular native bush. The track leads you to Kerosene Creek for a naturally warm swim. A great end to a fantastic bike trail. Here's more info!
Tuhoto Ariki Trail
This one is specifically designed as a dual track. It's for the advanced rider. Work up a sweat while you cycle through native bush; the trail starts at the top of the Whakarewarewa forest at 765m. You can catch a shuttle to the top or bike up if you have the energy! Find out more here.
Hatupatu
This is only for the expert riders. It's a technical trail that can be challenging for riders. The track descends a total of 160m and is 1km long. Give it a go if you dare! Here's more info
We have put together a list of our most popular trails. If you would like more detailed information and maps you can find them here.

Mountain Biking Events
Rotorua is also host to a number of international events throughout the year, including the ever popular annual Rotorua Bike Festival through to being the first stop on the Crankworx World Tour. There are also a number of local community-based events held throughout the year. To keep up with all things happening in Rotorua, be sure to sign up to our monthly newsletter.
1. Rotorua Bike Festival
Our very own bike festival! The Rotorua Bike Festival celebrates the start of Summer with 10 packed days full of festivities and fun for all ages. This year it will be held between October 25th – November 3rd.
View more information about the Rotorua Bike Festival on their website.
2. Crankworx
Crankworx brings the world's downhill, slopestyle, and enduro legends together. Based in Canada, the Crankworx World Tour comes right through to Rotorua, New Zealand. The Rotorua tour usually takes flight in March.
View the full Crankworx event schedule on their website

Biking a different way
If mountain biking isn't your cup of tea, yet you want to get out on a bike and see the beautiful sights Rotorua has to offer, you can always consider altermative options – like EBiking, or setting up a picnic while the kids bike around!
1. Electric Bike Rotorua
Explore Rotorua and experience the thrill of an Electric Bike! Choose between a mountain bike or a cruiser and ride around town or venture further afield to discover other attractions nearby without sweating.
You can be of any age or fitness level and all you need to know is how to ride a bike, the rest is easy.
Ride around town or venture further afield to discover other attractions nearby. Our team will help you design the trip you like!
Our bikes are a unique mode of transport for your adventures in Rotorua!
We offer a range of rental options, from one hour to a full day, as well as long term rentals.
Open – 9 am – 6 pm Daily, Prices start from $25.00
2. Picnics and Bikes
Kerosene Creek is a beautiful natural hot spring that flows through natural bush. There is a corregated iron shed for changing into swimming togs or bathers. This spot is great to picnic in and can be a nice reward after a hard bike (or walk if you really want an alternative). You can find more on how to get there by clicking here.
The Redwood Forest that was mentioned earlier also makes for a great spot to eat and relax. The trees provide shade and shelter so whether it's Summer or Winter, you'll find somewhere to sit and relax after that spectatcular bike ride!

Tips and Tricks
Every mountain biker has their first run! With various runs, comes various lessons learned. We thought we would share some of our top tips and tricks with you so you can learn the easier way rather than the hard way.
1. Stay loose
The bike will roll over the terrain – the rocks, the roots and so on. Your job is to ensure the bike does its job. Keep your body loose so the bike can move beneath you. Hover above the seat when riding over difficult obstacles like rocks.
2. Take breaks
Biking can be exhausting! Do not be afraid to take breaks or stop and enjoy the scenery and wildlife around you.
3. Easy on the BRAKES
Different from the second point – but stay easy on the brakes! You will be tempted to grab both of the brakes and pull them with everything you have got. But, we advise that you resist! Mountain bikes are very powerful and just one, or even two fingers will be enough to reduce your speed. If you pull with everything you have got, you will likely send yourself over the handlebars! Ouch.
4. Eyes on the track
Keep an eye on where the track is leading you. Do not focus directly on large targets – you might focus too much on avoiding it, that you hit it anyway. We advise that you look beyond the obstacles and focus on where you are wanting to go and what direction you want the bike to go in. Peripheral vision is useful for avoiding and handling small obstacles in your immediate view.
5. Use the gears
Mountain bikes have gears and sometimes they can look a little confusing. The gears are a useful tool however and will help you keep up your momentum. We advise testing the gears – especially if it is a new bike, before hitting the trail with everything you have.
Bike Shops
There are a number of bike shops in Rotorua to assist you with parts, equipment, repairs and even hiring. Some of these include:
84 White Street, Rotorua
07 347 2232
1133 Pukuatua Street, Rotorua
07 343 9372
6 Tarawera Road. Rotorua
07 345 9333
1111 Hinemoa Street, Rotorua
07 348 6588
1299 Fenton Street, Rotorua
07 348 6610

Mountain Biking Gallery
For additional tips and information about good tracks in and around Rotorua, contact us today! We are happy to help organize your Mountain Biking adventure.