ASURE Palm Court Rotorua Motel Room Decor is designed to make all guests feel welcome and comfortable in our family-owned, 4 star accommodation. We put a lot of pride into our clean and private rooms and put the effort in to make our rooms feel like home for our guests.
Our Rotorua motel room décor is very modern and homely. All our Rotorua motel units have recently been refurbished to keep everything fresh and up-to-date for our guests. We have added our own style in each room.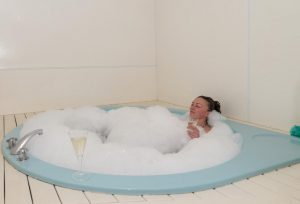 Our Spa Studios are designed in cool relaxing colours, with brown and burgundy touches. The kitchenette is modern with its black marble designed bench tops and beautiful artwork of the Rotorua Scenery. The rooms are fitted out with stylish appliances including a Panasonic flat screen TV and a Panasonic Microwave. The outdoor space is comfy with café-style outdoor furniture next to the private hot tub.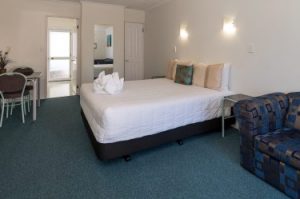 Our 1-2 bedroom units are very spacious with open plan living. They have great natural light but also enough modern room lighting to keep it bright. The grey and aqua colour scheme keeps this room fresh and stylish and very homely for our guests. The furniture in the rooms does vary depending on the size. The retro style couches match the room décor and they are very comfortable. The floral art works in these rooms to brighten up the space and add that special touch.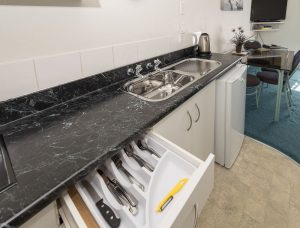 All of our Rotorua motel room decor includes great lighting suitable for the business traveler and families watching Sky movies. There are modern lights fixed to the wall over all of our beds, which are solid NZ made beds with top quality bedding and duvets that are sourced from reputable manufactures.  The carpets are quality NZ made suitable for high traffic, and guests constantly using the guest spa pools in rooms so can handle getting wet without smelling. The rooms have a number of special touches added including a beautiful swan made out of towels at the end of each bed!
Our service is always with a smile, and we are dedicated to making all our guests feel welcome. So feel free to give us a call to book in!