Rotorua is steeped in cultural history and is a place where you can experience authentic Maori Culture like no other.
With such a diverse range of cultural and dining experiences, along with the natural geothermal activity, it is truly a unique place to visit. Below we have highlighted just a few of the many cultural and dining experiences on offer.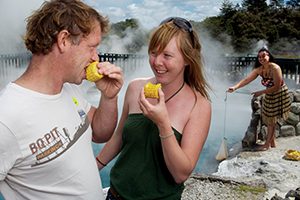 The Tuhourangi/Ngati Wahiao tribe have welcomed visitors into their backyard for over 200 years. This is a unique opportunity to experience their way life and share in the geothermal treasures. Te Whakarewarewa is such a unique attraction, where you can take part in authentic culture, and enjoy a geothermally cooked Hangi meal. There are daily cultural performances, featuring the famous Maori Haka; twice daily at 11.15am and 2.00pm.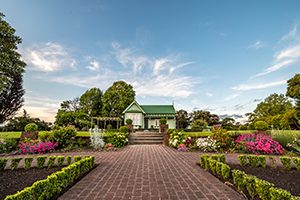 Take a tour through Rotorua city including the Government Gardens and Ohinemutu Maori Village. Share our history, explore our land and meet our people. Connect with the culture, people, history and landscape that make Rotorua so unique. Private guided walks range from 1 hour through to 2 hours, where our guides will share the legends and history of Rotorua. Visit Rotorua where we can give you an insight into our Maori culture and way of life.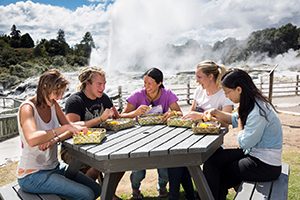 At Te Puia, you will encounter bubbling mud, pools of boiling water still used for cooking, and stunning geysers.Visit the Rotowhio marae, a stunning example of traditional Maori architecture, which showcases our stories and artistry. See the site of the ancient Te Puia pa (fortified village) and at Pikirangi village, find out how Maori lived hundreds of years ago. You can also get up close and personal with New Zealand's national icon, the Kiwi.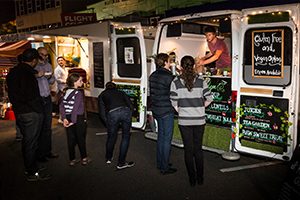 The Rotorua Night Market is a popular family-friendly event where you can enjoy shopping, arts and crafts, and taste a variety of ethnic cuisine. You will also be entertained by talented local musicians, and get to meet some of the locals.The Night Market is on every Thursday evening from 5 pm to 9 pm (weather permitting) in the 'Heart of Tutanekai Street' (between Haupapa and Hinemoa Streets).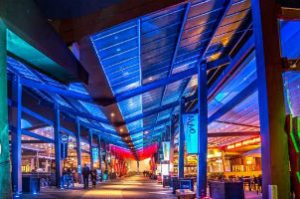 One of Rotorua's coolest hot spots in the city is Eat Streat. At the lake end of Tutanekai Street, this is a convenient place to enjoy quality restaurants, cafés and bars as well as the famous Lady Jane's Ice Cream Parlour.There is a covered central walkway with retractable roofing for all-weather, year-round al fresco dining. The thermally heated footpath and enhanced lighting makes Eat Streat a unique dining experience.
With so much to see and do in Rotorua, why don't you start planning your visit to experience the natural wonders and culture this region has to offer. Be sure to book your accommodation with ASURE Palm Court Rotorua, where we can assist you with any questions or advice that you need in planning your next holiday.