COVID-19 Update
We expect that most, if not all of these events, are cancelled in response to the COVID-19 Pandemic. Please contact the event manager directly if you have any questions. Stay Safe!
---
Wednesday 1 April 2020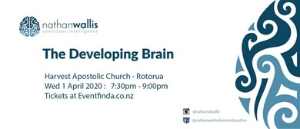 Nathan Wallis is a neuroscience educator who is the host of the popular documentary "All in the mind" and the TV Series "The Secret Life of Girls". Rotorua is proud to announce that he will be coming to the area with a popular talk about developing brains. Nathan is known as a lively and engaging speaker who in this presentation will discuss how interactions with children and young people can shape and define later outcomes for our children. You will walk away with a much better understanding of how both your child's brain and your own brain works. To find out more about this great event, see here.
---
Saturday 11 April & Sunday 12 April 2020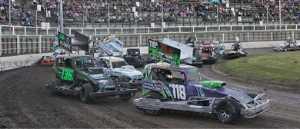 The last big hit out for the season! All of the premier classes will be racing – Superstocks, Stockcars, Modifieds, Saloons, Streetstocks, Production Saloons and Ministocks will all be competing for the Easter Titles! To top off the entire night, there will also be the Sportsweb Photography Demolition Derby! Get your tickets today! See here for more information.
---
Thursday 16 April 2020
A retelling of an internationally award-winning story of an ancient myth. Eurydice is a unique story about making changes, taking leaps and about being a daily superhero. Find out more about this weave of beauty and power.
---
Saturday 18 April 2020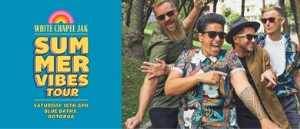 White Chapel Jak is a high energy Kiwiana band that will have you groovin' with their fresh and funky approach to the songs you know and love. This band genuinely loves performing and every moment of their journey reflects this. With a stage that lights up with musical wizardry, laughter, and love, it's easy to see why audiences of every age fall for them, their music and their story. You can find more information here as well as ticket details.
---
Saturday 2 May 2020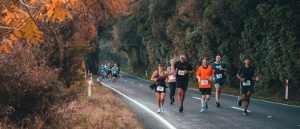 It is the 56th year of the Rotorua Marathon! The event starts with a haka before runners and walkers travel past geothermal activity, through the world-famous redwoods of Whakarewarewa Forest, or wind around picturesque Lake Rotorua. Runners and walkers can choose from a full marathon or off-road half marathon. It will be a great event for the whole family. To see more information, check it out here.
---
Wednesday 6 May – Sunday 10 May 2020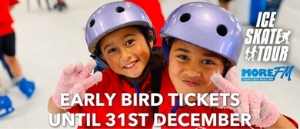 The state of the art artificial ice rink is back! It looks like ice and has the same gliding capacity as ice but isn't. It is surrounded by inflatable boarding and helmets and gloves are provided. It is the safest way to try ice skating no matter your age! Click here to find out more.
---
Tuesday 19 May 2020 & Wednesday 20 May 2020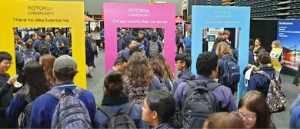 Education and training providers from around the country will be available to speak to at the careers expo. The event is free and everyone is welcome. All ages, all stages of life. Find out more here.
---
Tuesday 9 June 2020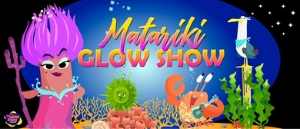 Come celebrate MATARIKI with a giant scale puppet show of magical glow-in-the-dark characters from M?ori myth and legend! This innovative, cutting edge concept features 40+ glow-in-the-dark puppets under UV lights in a black box theatre environment. It is a MUST SEE for the whole family! Find out more about the event and ticketing information here.
---
Rotorua has such a vast range of events for all groups, ages, and abilities. There is never a dull moment in our beautiful region. Rotorua is waiting for your next visit and so are we! If you want to know more about how ASURE Palm Court Rotorua can help you have an amazing time in our city, contact us and we can help!