Rotorua is a great place to spend time with family and friends over the Christmas period. There are many businesses that will stay open for Christmas day but also several that will close; giving you options to stay in or spend time out and about.
If you are visiting Rotorua, then there are many restaurants offering Christmas lunch and dinner to save you having to cook or plan meals. Or for something different, get along to one of the many attractions that remain open on the day.
Starting Saturday November 30th from 4pm, the Rotorua Christmas Parade waves its way through the CBD and will finish off at the Village Green. There will be an exciting new line of interactive entertainment and activities for the kids, food vendors, a short prize giving for our amazing winning floats and of course our Christmas Movie on the big screen.
Prince's Gate Christmas Dinner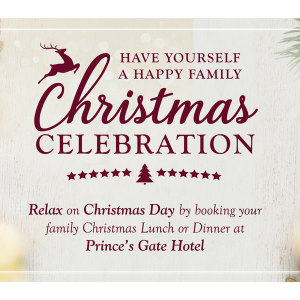 If you are visiting Rotorua, or just want to take a break from planning Christmas dinner, then Prince's Gate Hotel is open for both Christmas lunch AND dinner. Save on the clean up after a big day with the family, and come and enjoy the delicious meals prepared by the Executive Chef and his team.
Skyline Rotorua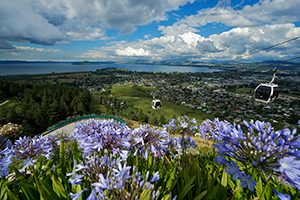 Celebrate Christmas with family and friends at Skyline Rotorua. Christmas Day and New Years Eve lunch and dinner options are available as they are open daily. The Skyline Rotorua even has functions and parties during Christmas time which are ideal for large groups.
There is so much to see and do at Skyline Rotorua. Test your limits on the Skyswing, experience the thrill of the Zoom Ziplines, or take the driver's seat on the fast-paced Luge. These are just a few of the attractions available that are sure to keep your family entertained this Christmas.
Agrodome is an all-weather family-friendly attraction, located just 10 minutes from Rotorua city.
You can enjoy the farm show where you will be introduced to 19 breeds of sheep, and may even get the opportunity to feed the baby lambs or even hand-milk a cow!
There are 350 acres to explore on the farm tour, where you can take a ride on the all-terrain vehicle to explore the working farm. You will get to hand feed and take photos with all sorts of animals, including sheep, cattle, deer, llamas, ostrich, pigs and alpaca!
Agrodome is open all public holidays, including Christmas day. So bring the family along and experience something unique this Christmas.
Bring your family along to Rainbow Springs this Christmas and enjoy a fun packed and educational experience for the whole family. A team of experts will give you close encounters with trout, reptiles and native birds. Cool off and take a ride on the Big Splash, which is included in your entry ticket. You can ride it as many times as you wish!
A great way to spend the day with family and friends this Christmas!
Open Christmas Day: 8.30am – 5.00pm (last entry 4.00pm)
The Redwoods or Whakarewarewa Forest in Rotorua is a magical place to visit, and just 5km south of Rotorua. Take an elevated, birds-eye perspective of the forest on the birds-eyeTreewalk. A unique family experience to get up close the the 115 year old redwood giants.
Mountain Biking in The Redwoods Forest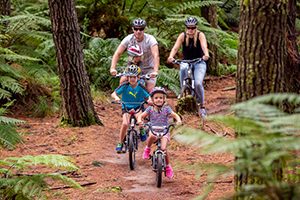 Burn off that Christmas lunch and take the family mountain biking in the Redwoods Forest. One of the oldest mountain biking trails in New Zealand, you will enjoy some fantastic scenery. There is something for all levels of riders, with around 130km of trails.
A great way to spend time with loved ones, while getting that all important exercise and fresh air.
There is still time to book your Christmas accommodation at ASURE Palm Court Rotorua, and we can help with any questions or advice you may need for your holiday season activities in Rotorua.