The team here at ASURE Palm Court Rotorua have experience with a variety of activities for children and families of all sizes. We know and understand how planning trips with children can be a bit of a handful; especially with ensuring they are kept occupied and are having fun! However, we have put together a small Day 1 itinerary to keep your family busy around Rotorua in Winter.
A day in Rotorua
7:00 am – Wake up and get ready for the big, exciting day ahead! Hopefully, you and the children are well rested and ready for your holiday in Rotorua. We have been told our beds are extremely comfortable.
7:15 am – Pack the backpacks for the kids – make sure you include some delicious sandwiches, a water bottle, and snacks for a picnic. Or, make sure you have your wallet and opt for a nice little cafe in town! If you want some more inspiration for picnic food ideas, see here.
7:30 am – Wake up the kids!
7:45 am – Head out for breakfast! There are a lot of local cafes which offer really filling and reasonably priced meals for you and the family. These spots are also in town, making it a great starting location to begin your day. We recommend Zippy's Central Cafe. Zippy's is located on 1153 Pukuatua Street! (If you get out onto Fenton Street and head towards town until you see Pukuatua St, you will have no trouble finding it. Only a 15-minute walk! Alternatively, there are bus routes every 30 minutes that will take you nearly to the door)
9:00 am – Take a bus to Rainbow Springs
9:30 am – Relax and enjoy the fun activities Rainbow Springs has to offer! There is a guided wildlife tour, a Big Splash ride, kiwi burrow experiences and so much more!
1:00 pm – Set up a blanket or find a table and enjoy your picnic with the kids. There is also a cafe on site which has delicious snacks and food to keep you going. Or, you can find a local cafe back in town.
1:30 pm – Head back to town on the bus and head to The Redwood's Forest. The Redwood's forest is just 5 km past the Rotorua City Center which is about 20 minutes by car. However, the bus in the City Center comes right by the Redwood's, making it an excellent form of transportation.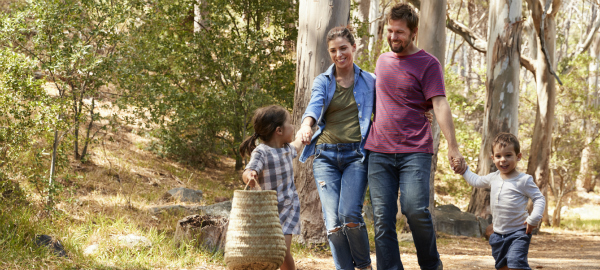 4:00 pm – Return back to town via bus and head to Polynesian Hot Pools! The hot pools are just a 5-minute walk from the Rotorua City Center. The perfect place to relax after a busy day. Take a long soak in an original geothermal spring. They have family pools that make for the perfect winter stop with the children. The family pools allow for splashing and sliding – a seriously good treat! The family pools are also public, so anyone is welcome there. However, if you're wanting a more private spa option, these are also available with children being able to get in at a lower rate than adults. Polynesian Spa also offers a hiring program for towels and swimming shorts – just in case you forgot to pack your spa essentials. Also… Pssst – hey mum! There is also a retreat day spa at Polynesian Spa. For more information on the Polynesian Spa, visit their website here.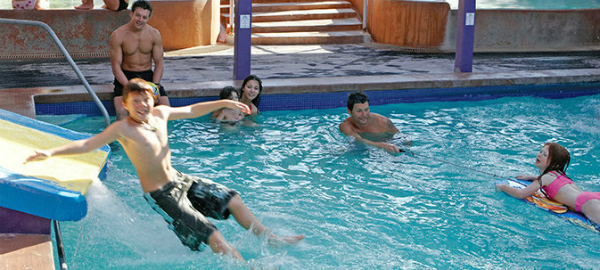 6:30 pm – Time to fill those hungry bellies! What's better than going out for dinner with the family especially when you're on holiday? Below, are three of our favorite places to go out and eat in Rotorua.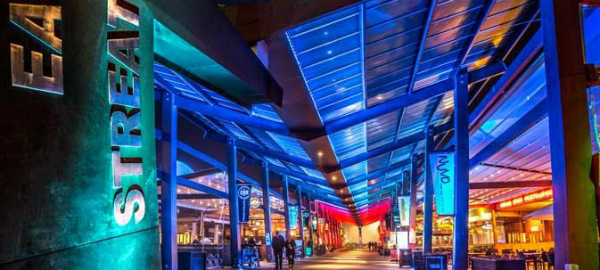 Eat Streat
Eat Streat is one of Rotorua's hot spots in the city. This beautiful restaurant is located at the end of Tutanekai Street, near the famous Lady Jane's Ice Cream Parlour! Eat Streat is ideal for any types of weather, especially those cold winters nights as it has a thermally heated footpath and enhanced lighting at night.
Urbano Bistro
A two-minute walk from your room! Urbano Bistro is located on the corner of Grey and Fenton Street; with all-day dining and a relaxed atmosphere. It is a smart casual café by day – serving breakfast, lunch and bar snacks, until dinner which serves modern, innovative and delicious meals. Urbano Bistro also offers free motel delivery! Contact them to know more.
BREW | Craft Beer Pub
BREW is run by Croucher Brewing – Rotorua's award-winning craft brewery. They have pub-style food at a reasonable price. They are also kid-friendly and have highchairs available for little ones! Don't just take our word for it though – try them yourself!
8:00 pm – Head back to the motel and relax after a busy, fun-filled day. We have Sky TV in all of our rooms – that means over 50 channels of entertainment, so we are certain you will be able to find a relaxing family movie before bedtime.
If you are looking to plan a holiday to Rotorua, give us a call! The team here at ASURE Palm Court Rotorua will help you plan the perfect holiday no matter the season.